Order a course
Your previous selection: XIHU
< Back
A1 Revision Lundi 0606-0704 2022 S2A
Product Code: A1 Revision Lundi 0606-0704 2022 S2A 2022

Age Group
Adults
Type
2h30 Weekly
Session
2022 - Session 2
Pace
2h30
Level
A1 - DISCOVERY

Schedules
06 Jun 2022 to 04 Jul 2022

Monday 6:30pm ▸ 9pm at XIHU > Salle 1
A valid membership is required in order to enroll in this course
Objectives
A1 - You will be able to:
- Understand and use common expressions and basic phrases aimed at satisfying basic needs.
- Introduce yourself and others; ask and answer questions about personal details such as where you live, your hobbies, people you know and things you have.
- Interact in a simple way provided the other person talks slowly and clearly and is prepared to help.
Required Course Material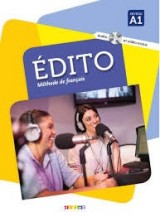 285.00¥
Edito A1 Livre + CA
Le livre et le cahier d'activité Edito A1