Order a course
Your previous selection: XIHU
Only 1 course available for this selection
A2.3 Semi-Intensif Avril 0411-0525 2022 S1A
Product Code: A2.3 Semi-IntensifAvril 0411-0525 2022 S1A 2022

Age Group
Adults
Type
10h Weekly
Session
2022 - Session 1
Pace
10h
Level
A2.3

Schedules
11 Apr 2022 to 23 May 2022

Monday 9:30am ▸ 12pm at XIHU
Monday 1pm ▸ 3:30pm at XIHU

13 Apr 2022 to 25 May 2022

Wednesday 9:30am ▸ 12pm at XIHU
Wednesday 1pm ▸ 3:30pm at XIHU
A valid membership is required in order to enroll in this course
Objectives
A2 Intermediate - Part3
In this level (A2.3), you will learn about new ways of consumption, how to organise a touristic stay and a sightseeing trip, how to speak about studies, your profesional path, to answer to a job offer. You will learn about citizen social initiatives and social commitment.

Prerequisite: A2 Intermediate - Part 2 or Placement test
Textbook: Edito A2, Units 9, 10, 11, 12.
Required Course Material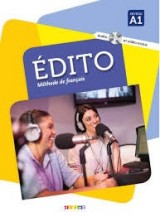 285.00¥
Edito A1 Livre + CA
Le livre et le cahier d'activité Edito A1
3,060.00¥
Approx $453.53
USD