Order a course
Your previous selection: XIHU
< Back
A1.1 Extensif Dimanche 0612 - 0828 2022-S2A
Product Code: A1.1 Ext Dimanche 0612 - 0828 2022-S2A 2022

Age Group
Adults
Type
5h Weekly
Session
2022 - Session 2
Pace
5h - Weekend
Level
A1.1

Schedules
12 Jun 2022 to 28 Aug 2022

Sunday 9:30am ▸ 12pm at XIHU
Sunday 1pm ▸ 3:30pm at XIHU
A valid membership is required in order to enroll in this course
Objectives
In this level (A1.1), students will learn the basics in French: Greetings and introducing oneself, giving and asking for personal information (name, address, telephone number, age), Numbers, date, days, month, weather. students will also learn how to order in a restaurant, to do some shopping, in supermarket or shop. Communication in French in the classroom. .

Prerequisite: no prior knowledge of French whatsoever
Textbook: Edito A1, Units 0, 1, 2, 3, 4.
Required Course Material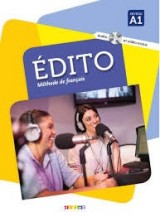 285.00¥
Edito A1 Livre + CA
Le livre et le cahier d'activité Edito A1
3,060.00¥
Approx $453.67
USD
4 places left!