Order a course
Your previous selection: XIHU
Only 1 course available for this selection
A1.2 Extensif samedi 0702-0924 2022-S2A
Product Code: A1.2 Ext sam 0702-0924 2022-S2A 2022

Age Group
Adults
Type
5h Weekly
Session
2022 - Session 2
Pace
5h - Weekend
Level
A1.2

Schedules
02 Jul 2022 to 03 Sep 2022

Saturday 9:30am ▸ 12pm at XIHU
Saturday 1pm ▸ 3:30pm at XIHU

17 Sep 2022 to 24 Sep 2022

Saturday 9:30am ▸ 12pm at XIHU
Saturday 1pm ▸ 3:30pm at XIHU
Objectives
A1.2
Discover how to tell your day, to go out with your friends, how to speak about your family, to announce a family event or to speak about a meeting. Students will also learn how to move in a flat, how to contact a professional to explain a domestic problem, how to organise and to tell a journey. After the A1.2, prepare and sit for the DELF A1 exam, an official and international recognition of their level in French.

Prerequisite: A1.1 - or placement test
Textbook: Edito A1, Units 5, 6, 7, 8.
Required Course Material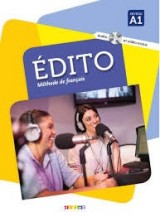 285.00¥
Edito A1 Livre + CA
Le livre et le cahier d'activité Edito A1
3,060.00¥
Approx $457.20
USD